Chapter 5: Assassinated Judge: Fast & Furious, Immigration, Burke, Obama, DHS, Weapons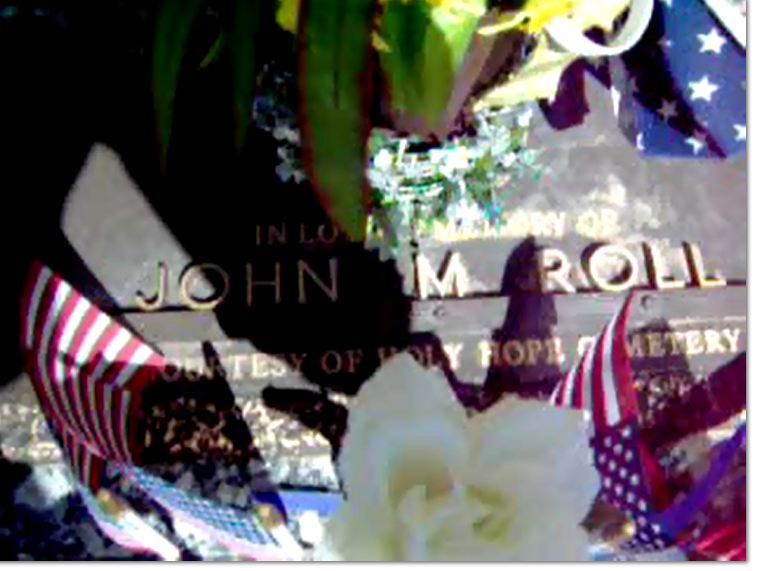 WHO WAS THE JUDGE LOUGHNER ALLEGEDLY MURDERED?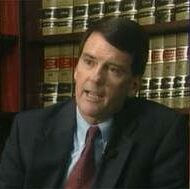 Investigating Judge Roll's death and his background was a very tricky task, following the 2011 shooting. The media, at the time of the shooting, was only focused on covering the near assassination of Congresswoman Giffords, while suppressing the murder of the judge. All channels, ABC, FOX, MSN, NBC, etc were heavily involved in the gun debates and very few spoke about John Roll. It was as if all media wanted to make sure Judge Roll was forgotten about immediately. It was such a mockery, the media even blamed Sarah Palin for Loughner's alleged actions. I say alleged because Loughner was a patsy, not a murderer and by the time you are done reading this investigative report, I will have given you all the facts.
While in Tucson, I went undercover to see his resting place and get more information about Roll. By this point, I had already discovered I was being set-up and ditched the sleazy agent (Ed Charini), and moved forward undercover to get some answers. I enlisted the help of two others investigators, (Lee Bracker & Sheldon Day) and together, we went on a mission to find out why Roll might have been a target to be assassinated by the Mossad.
After I returned to Missouri, Ed Charini (the shill) had began putting out disinformation comparisons and claimed that I was the Princess of Sweden and Judge John Roll was an actor from the Pima County Sheriff's department and also an actor in the Independent Film Association of Southern Arizona (IFASA).
I immediately disagreed that Roll was an actor because there was far more evidence he was a real judge in Arizona. I also found it quite interesting he would put a player card out on my- the Princess of Sweden. In-fact, it was such a challenging job sifting through the disinformation that has already corrupted probably hundreds of thousands of readers and followers of this case. In forums, blogs, and websites, people were putting their opinions in based on non-facts and blatant lies. As a result, a detailed analysis of Judge John Roll was needed to make the accurate corrections and put the disinformation that was and still is floating around on the Internet to rest.
JUDGE JOHN ROLL – 02/08/47 – 01/08/11
Many years have now passed since Chief Federal Judge John M. Roll was allegedly gunned down by insane Jared Lee Loughner on 01/08/11 at the Safeway shopping center in Tucson (Casa Adobes), Arizona on a wintry January morning. The killing of Judge Roll is the first murder of a federal judge since 1989, when a pipe bomb exploded in the kitchen of U.S. District Judge Robert Vance's home.
It was 'said' from the beginning that Roll came from a Saturday morning Catholic Mass to say 'hi' to Congresswoman Giffords at the Safeway store and talk to her a the courts case-loads. According to FBI Special Agent Tony M. Taylor, Jr., filed in Loughner's criminal complaint, Roll went to the "Congresswoman on the Corner' to discuss the current volumes of federal cases in the District of Arizona.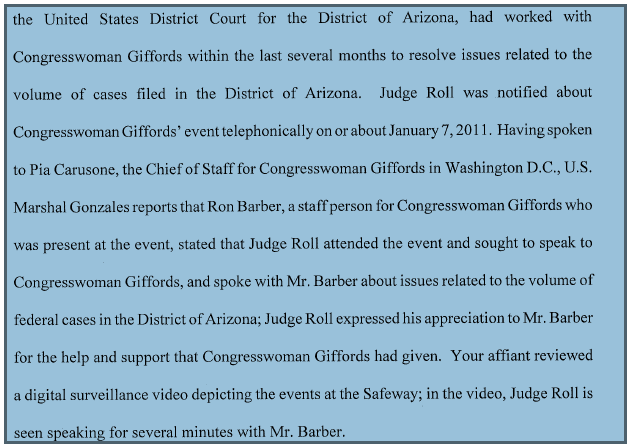 Some reports also claimed Roll went to the event that morning to discuss immigration issues with Giffords.
"Earlier this week, Roll was in the news after complaining that the federal courts in Arizona were drowning in a "tsunami" of criminal cases filed as a result of a surge in federal law enforcement agents working to secure the border with Mexico.

"We've reached a choke point," Roll told Arizona's Capitol Media Services on Tuesday. He asked Congress to extend the minimum time to bring a felony case to trial from 70 to 180 days, but said more judicial resources were the only answer to the problem. "We need judges," Roll said.
Some judges friendly with Roll speculated that he may have gone to the supermarket event to thank Giffords for a letter she wrote recently, urging that a "judicial emergency" be declared in Arizona because of the worsening caseloads. The chief judge of the U.S. Court of Appeals for the Ninth Circuit, Alex Kozinski, told The New York Times that his "guess" was that Roll went to thank Giffords, "and he gets killed for it." Judge Michael Hawkins of the 9th Circuit in Phoenix, laid out a similar scenario in an interview with The Wall Street Journal.
During 2011, Arizona was and has been filled with governmental corruption. At this particular time, the ATF was illegally gun-running, border patrol agents were being murdered, and immigration was already on overload. There were very few initial articles published in 2011 discussing Roll's life and identity. The mainstream media and AP press only focused on Gabrielle Giffords and the 9/11 girl – Christina Green. Why the blackout? In-fact, after the shooting, the NAVY dedicated a new line of (LCS-10) warships dedicated to Congresswoman Giffords. I will discuss this weird & Satanic dedication in a later chapter.
Judge Roll's Life
Judge John Roll was born in Pittsburgh, Pennsylvania and moved to Arizona as a child. Roll came from a Roman Catholic family and attended St. Thomas the Apostle Catholic Church in Tucson, AZ.
Roll attended Salpointe Catholic High School. He received a BA at the University of Arizona in 1969, and then received a J.D. at the University Of Arizona- College Of Law in 1972, and eventually a L.L.M. at the University Of Virginia School Of Law in 1990.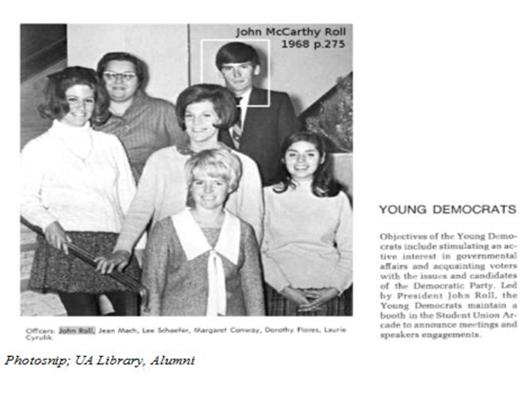 He began his career working as a Bailiff for Pima County Supreme Court in 72/73. He then became assistant county attorney of Tucson in 1973. He then accepted a position as deputy county attorney for Pima County Criminal Division in 1973-80. From there, he became a clinical instructor at University of Arizona College of law from 1978/79. Roll then served as assistant US Attorney for the District of AZ from 1980-87.
Roll was attached to an organized crime task force from 82-86 and then a civil division from 86-87. From 1987-91, he became a state judge. Roll served on the Court of Appeals and District 2 for Arizona. In 1991, he became vice-chief judge. Additional research shows Roll was a judge on the Pima County Supreme Court and Criminal Bench in 1991.
George H. W. Bush nominated Judge John Roll to the federal judiciary in 1991. The position was vacated by Alfred C. Marquez. Lastly, he was elevated to Chief Judge, in Federal 9th Circuit Court in 2006, succeeding Steven McNamee. After his death, he was succeeded by Roslyn Silver.
Judge John Roll: The 1994 Brady Bill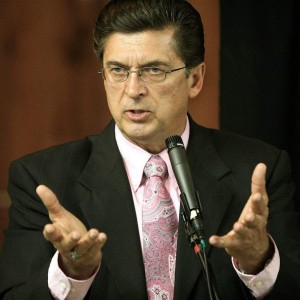 It has been stated that Roll cared about American's rights and freedoms. Sheriff Richard Mack, Roll's friend, wrote an infamous article titled, John M. Roll: A True American Hero, describing his experience with Judge Roll, the Brady Bill, and his feelings about his death. Sheriff Mack, a constitutional Sheriff formerly from AZ, met Judge John Roll back in 1994 in his courtroom when the judge first heard his lawsuit against the Clinton Administration. He said in an interview with the Power Hour with Joyce Riley, that his son had told him about the shootings. He stated that before he learned of the description of the shooter, he blurted out to his son, "I already know who it is," without knowing his name, "he is a white young male, who is a loner that the media will try to link to the Tea Party." Was Sheriff Mack already on to them and a possible plot of assassination? Mack had a lot of respect for Judge Roll.
The Brady Bill, Dennis Burke, and Fast & Furious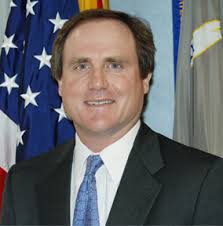 Arizona US Attorney, Dennis Burke, helped mastermind and push through the 1994-assault weapons effort, and regularly donated to the Obama administration as well as other democratic parties.
Following the shooting, Burke was initially in charge of prosecuting Jared Loughner's case following the shooting until his resignation over the Fast & Furious gunrunning scandal. Burke also served as a senior advisor for Homeland Security Secretary Janet Napolitano in Washington and served as her chief of staff when she was Governor of Arizona.
Burke became a member of Obama's transition team that focusing on border-enforcement issues. He then ended up in the Obama administration as the U.S. attorney in Arizona responsible for overseeing Operation Fast and Furious. After Obama nominated Burke, he told the Arizona Capitol Times that he believed he understood what the president and his attorney general wanted him to do.
"There's clearly been direction provided already by President Obama and Attorney General Holder as to what they want to be doing, and this is an office that is at the center of the issues of border enforcement," said Burke.
Meaning illegal gun-running?
Burke resigned abruptly in the latter part of 2011 when his connection to the Fast & Furious gun running scandal began to unfold. Congressional investigators and the internal Justice Department began to inquire about the Arizona federal gun-trafficking investigation that led to thousands of guns to flow in the hands of criminals and across the border to Mexico.
In an article by Investment News titled, Blood Money: Obama Contributor ran Fast and Furious,
"Scandal: A campaign contributor who was an architect of the 1994 assault weapons ban was the mastermind behind the Fast and Furious operation that let guns walk into Mexico, including those that killed two U.S. agents.
Shortly after the murder of Border Patrol Agent Brian Terry on Dec. 15, 2010, Attorney General Eric Holder's deputy chief of staff, Monty Wilkinson, received an email from U.S. Attorney for Arizona Dennis Burke telling him just that:
"The guns found in the desert near the murder(ed) BP officer connect back to the investigation we were going to talk about — they were AK-47s purchased at a Phoenix gun store."
It is an email that helps demonstrate that Holder, despite his congressional testimony — as vague, contradictory and misleading as it was — could not have been ignorant about Fast and Furious and its deadly consequences.
It also brings to light the name of Dennis Burke, a seldom-mentioned Obama campaign donor who oversaw Fast and Furious and helped convert it from a gun-interdiction to a gun-walking program.
Burke, who resigned shortly after the scandal became public, has long been a gun-ban architect for the Democratic Party."
It should be made clear at this point, while the 'Fast & Furious' scandal was unfolding, very few articles in the AP press mentioned the connection to Dennis Burke and Jared Lee Loughner. It seems suspect considering he made all the 'statements' regarding Loughner's case. Earlier on, the Hill published an article titled, Agents worried ATF program connected to Loughner's gun, claiming:
"Federal agents were worried that the gun used to shoot Rep. Gabrielle Giffords (D-AZ.) in the head could have been part of the controversial "Fast and Furious" gun-tracking operation." This was later denied.
The "Fast and Furious" operation was a program run by the Bureau of Alcohol, Tobacco, Firearms and Explosives (ATF), They were to authorize and monitor the sale of weapons to "known and suspected straw purchasers for Mexican drug cartels" with the stated goal of dismantling and exposing gun trafficking routes.
Roll's Past
John Roll left behind a wife, Maureen, three grown children, and five-grandchildren at the time of the shooting. According to Carl Anderson, "Roll was a member of the Fourth Degree of the Knights of Columbus, a fraternal order of the Catholic Laymen." Anderson is the supreme knight of the Knights of Columbus, and chief executive officer and chairman of the board of the world's largest Catholic family fraternal service organization, which has nearly 2 million members. Anderson has led the Knights into many endeavors including the establishment of the 9/11 Heroes Fund that was to provide for immediate assistance for the families of the first responders who were victims of 9/11.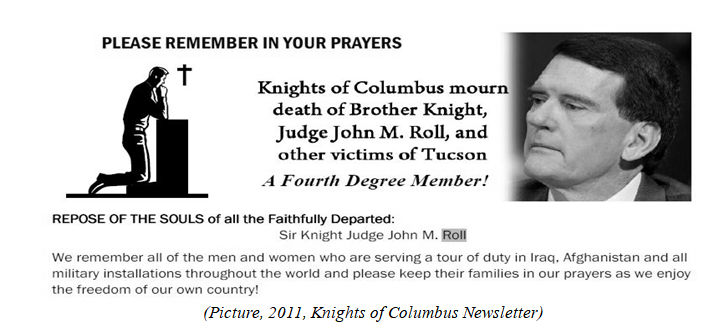 Maureen and John were married for 40 years. Maureen is said to be a devoted Christian to the Catholic Church. She devoted her time counseling teens through the Catholic Social Service Merilac Lodge & Casa De Crianza and was a veteran of 'crisis-pregnancy' counseling with Tucson's Catholic Charities. John also worked with the St. Thomas More Society, which is a branch of the Catholic Community Services of Southern Arizona.
The Merilac Lodge is licensed through the Office of Behavioral Health Licensure (BH-914) and receives referrals from DES, Department of Juvenile Corrections, Juvenile Court, and Tribal Social Services." Case De Crianza is another housing program offered to mothers that are over the age of 18.
Roll Allegedly Saved Giffords District Director: Ron Barber
According to ABC's reenactment following the shooting, Judge John Roll allegedly ran right past the gunman from behind to save Gabrielle Giffords District Director, Ron Barber, and friend of Roll. Initial reports of how the shooting played out are not matching the evidence from court documents and released 9/11 calls and dispatch tapes. After the release of the ABC reenactment, the news anchor says, "these surveillance tapes are described as painful to watch but don't expect to see them anytime soon because they are now in the custody of the FBI."
Many news networks reported that over 200 surveillance tapes, cell phone videos, and pictures were in the hands of the FBI. Very few, if any were released to the public. He also said, "the surveillance tapes were 'crystal clear" and captured the rampage in chilling detail." No live footage of the crime scene has ever been released showing this particular reenactment.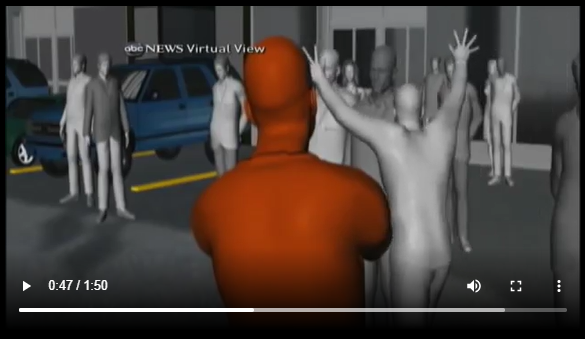 Ron Barber initially claimed he did not remember that Judge Roll saved him or even remembers Roll lying on top of him after being shot. It was only after Barber was told by Chief Investigator, Richard Kastigar, at the Pima County Sheriff's Office that the 'video surveillance tape' at the scene allegedly showed Roll used his body as a shield to save and protect him. Barber then said, "I do not doubt that it is possible" (2011, AP Press Release).
The autopsy report that was publicly released for Judge John Roll was performed by Dr. Eric D. Peters. The autopsy was performed at the Forensics Science Center at 2825 E District Street, Tucson, AZ. Assisting in the examination were: Louie Goad, Kristal Poulin, and Ernest Hernandez. Again, no family identified the victims of the shooting.
In the next chapter, I will discuss some of the biggest cases that Judge John Roll was presiding over and more information will be revealed as to possible reasons for assassinating the judge.